ACADEMIC YEAR 2016-2017
Pianists of all nationalities are now invited to apply between the ages of 9 to 18. Only seven students are accepted into the Academy.
Students who apply and are accepted are committed to participate in the activities of the program. Full tuition scholarship is given to accepted students.
There will be a $35.00 non-refundable application fee.
The application deadline will be Sept 30th, 2016. All materials must be received at MIMA by this date. No exceptions.
MIMA strongly encourages students to submit electronic applications. The application process must be complete and include the following: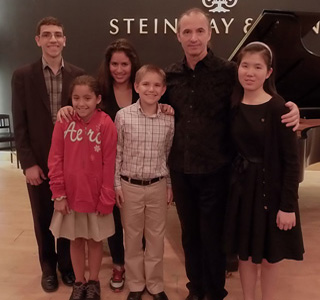 Completed online application form.
$35.00 non-refundable application fee.
Live audition. Students who live outside South Florida should send by email a high-quality YouTube or other video link. They can also send a labeled DVD with a minimum of 30 minutes of representative repertoire from three different style periods: baroque, classical, romantic, contemporary, etc. It should be labeled with the applicants name, age, and repertoire. CDs will not be accepted.
A brief professional biography and a photograph (8×10) for publicity purposes (bios and photos can also be sent electronically).
International students, please contact the Academy office prior applying for necessary information.
Accepted students will be notified by September 30th, 2016. Acceptance form is due by October 5th, 2016.
To apply online click here or send your scanned application and materials to academy@friendsofclassicalmusic.org DVD's and other materials can be sent to:

South Florida Friends of Classical Music
ATT: Miami International Music Academy
8333 NW 53rd St #450
Doral, FL 33166
USA
academy@friendsofclassicalmusic.org