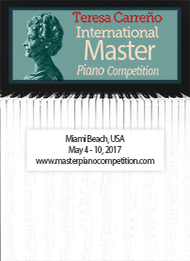 Program:
Competition Semifinals
Master Piano Competition
I Teresa Carreno Intl Master Piano Competition
Semifinal Round (Phase 1)
The Teresa Carreno International Master Piano Competition Semifinals continues with 6 pianists from around the world.
The Teresa Carreño International Master Piano Competition is the first one of its kind. Making music from Latin America and Spain half of the mandatory repertoire to play by the contestants. We aim to promote Ibero-American composers and Venezuelan pianist/composer Teresa Carreño who held control over romantic pianism for nearly 40 years in the 19th century. The Competition disseminates classical music worldwide, as well as launches and nurtures young artists' careers through the triennial Competition, ensuing international concert tours of its medalists.
Dates
Mon., May 8 at 10:00 AM
1040 Lincoln Rd. Miami Beach, FL 33139