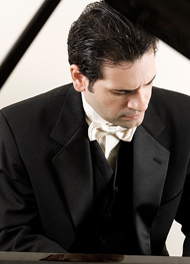 Program:
Ravel: Prelude
Minuet Sur Le Nom de Haydn
Sonatine
Gaspard de la Nuit
Lauro: 4 Venezuelan Waltzes
Chopin: Polonaise 'Heroic' in A flat Major
Adolfo Vidal Plays Ravel & More
Solo Piano Recital
Adolfo Vidal began piano studies in his native Venezuela and continued in the United States and Canada with Andre Laplante, Marietta Orlov, Kemal Gekic and JB Floyd. Vidal has pursued an international career as a pianist, performing solo, chamber and with orchestras in North and South America and Europe. He has been hailed as an "exciting and compelling pianist" and praised for his "musical and effortless virtuosity." Several performances have been broadcasted on Radio and TV, such as WQXR New York and WLRN Public Television in Miami.
Maurice Ravel, a small and obsessively neat French composer, wrote some of the most intensely beautiful and perfectly-crafted "impressionist" music of the 20th century. Gaspard de la Nuit, a 3 piano poems after Aloysius Bertrand is Ravel's terrifying piano masterpiece, known as much for its devilish difficulty as its unearthly music, especially Scarbo. Ravel set out to engineer a superhumanly hard piece to play, filling it with imaginative and eerie musical images.
Antonio Lauro is probably Venezuela's best-known composer of classical music, although his name is probably more familiar to aficionados of guitar. The waltzes are transcribed to the piano by Vidal himself.
Chopin's polonaises are generally the best known of all polonaises in classical music. The polonaise is a dance of Polish origin and is the composer's uplifting expression of his love for his native Poland. The A-flat major Heroic Polonaise is one of Chopin's most admired compositions and has long been a favorite of the classical piano repertoire.
Don't miss this rare solo performance by Vidal, as he has lately much dedicated to play chamber music. Admission is free, a free-will donation of $15 is accepted at the door. Steinway piano provided by Steinway & Sons.
Dates
Sun., Mar 12 at 5:30 PM
6701 Miami Lakeway S, Miami Lakes, FL 33014