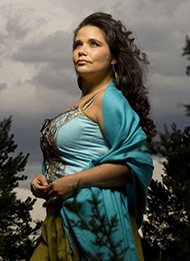 IV Miami World Music Festival
A Celebration of Italian Opera and Zarzuela
Manny Perez Vocal Studio & Soprano Eglise Gutierrez
"A Celebration of Italian Opera and Zarzuela" is quite simply, an evening to revel in the beauty and power of "The Voice!"
In a program that spans the Italian operatic masterpieces and rich Spanish zarzuela repertoire, 18 world-class singers from the Manny Perez Vocal Studio in Miami will perform songs, arias, and ensembles from your favorite operas and Zarzuelas. Guest International Artist Soprano Eglise Gutiérrez, receiving acclaim as "one of opera's next wave" from Opera News will join the group to sing a few surprises for the audience. Singers will be accompanied by 2 pianos on stage.
Featuring Singers:
Betsy Diaz, Hector Mir,Sydnee Waggoner, Daniel Aleeksenko, Raquel Rubi, Megan Barrera, Gerardo Ortega, Jennifer Zamorano, Katiuska Rodriguez, Stephanie Newman, Marcela Penaranda, Nathalie Avila, Armando Naranjo, Lauren Frick, Matt Maness, Alejandro Viera, Allie Lonstein, all accompanied by Maria Paulina Garcia on the piano.
Dates
Sat., Sep 17 at 8:00 PM
10910 SW 17th St, Miami, FL 33172