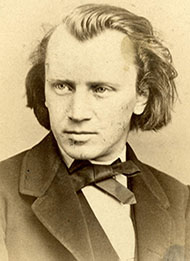 Program:
Piano Tro in B Major, Op. 8
Piano Quartet in G minor, Op. 25
IV Miami World Music Festival
An Evening with Johannes Brahms
Miami Chamber Players
The Miami Chamber Players play an all Brahms concert, including the Piano Quartet No. 1 in g minor, and the Piano Trio in B Major, Op.8. In its original form, the B major Trio is perhaps Brahms' most unabashedly Romantic creation, revealing, according to Richard Specht's voluptuous description, "the whole twenty-year-old composer with all his inner stress, his fullness of heart, his ardent longing; all the apprehension, pride, restraint and expectation of a soul in flower." Brahms wrote to Clara on September 3, 1889, "With what childish amusement I whiled away the beautiful summer days you will never guess. I have rewritten my B major Trio.... It will not be as wild as before - but will it be better?" Simrock issued the revised score in February 1891, but Brahms did not formally withdraw the original, allowing both versions to exist, thereby providing a rare glimpse into the compositional workshop of one of the most secretive of all the great composers.
A twenty-eight-year-old Brahms wrote his ambitious Piano Quartet No. 1 in g minor in 1861. The third composition in what would become an oeuvre of some twenty-six chamber music masterworks, the quartet enjoys a fine reputation in no small part because of the vigorously effective Gypsy Rondo itself. No less than Arnold Schoenberg found the quartet worthy of his own orchestral transcription.
The Chamber Players for this concert are Claudio Jaffe, cello; Huifang Chen, violin; Viera Borisova, viola; and Adolfo Vidal, piano.
Dates
Thu., Sep 15 at 8:00 PM
10910 SW 17th St, Miami, FL 33172