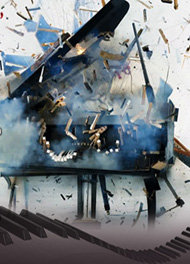 IV Miami World Music Festival
Monster Piano Explosion 2
20 Amazing Concert Pianists are Back On Stage!
Following the success of the Monster Piano Explosion last year, the 2nd edition is back to present a piano marathon recital that features and shows off the talent of some of the best pianists living in South Florida. More than 20 accomplished professional pianists on scene! Be prepared to hear piano solos, four-hands, dueling two pianos and other surprises that will blow up all your senses. A concert not to be missed by any piano lover.
Pianists include Jure Rozman, Tao Lin, Catherine Lan, Asiya Korepanova, Rosa Villar, Marion Scott, Luca Giuseppe Cubisino, Anastasiya Koplekova, Dan Sato, Priscila Navarro, Maria Sumareva, Silvije Vidovic, Matthew Calderon, among many others...
Dates
Sun., Sep 18 at 6:00 PM
11200 SW 8th Street Miami, Florida 33199