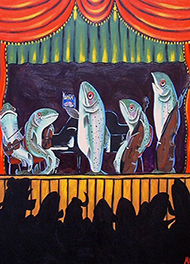 Program:
Trout Quintet by Schubert
Concerto in C Major for Mandolin by Vivaldi
Miami Chamber Players @ MLCC
The Trout Quintet
Miami Chamber Players
The Trout Quintet is the popular name for the Piano quintet in A major, D. 667, by Franz Schubert. The work was composed in 1819, when he was 22 years old; it was not published, however, until 1829, a year after his death.
Rather than the usual piano quintet lineup of piano and string quartet, Schubert's piece is written for piano, violin, viola, cello and double bass. The piece is known as the Trout because the fourth movement is a set of variations on Schubert's earlier Lied "Die Forelle" (The Trout). The quintet was written for Sylvester Paumgartner, of Steyr in Upper Austria, a wealthy music patron and amateur cellist, who also suggested that Schubert include a set of variations on the Lied.
The Mandolin Concerto in C major, RV 425, is a concerto written by the Italian composer Antonio Vivaldi in 1725 and is often accompanied by The Four Seasons (1725). The music consists of virtuosic treatment of the solo instrument, the mandolin, and the interplay between the soloist and accompaniment of the orchestra. The demands are considered higher than other concerti by Vivaldi, and the work is one of the most famous mandolin pieces. Music from the concerto was featured in the 1979 movie Kramer vs. Kramer.
Players for this performance are Adolfo Vidal, piano; Huifang Chen, violin; Rafael Ramirez, viola and mandolin; Jared Cooper, cello; and Hernan Matute, contrabass.
Dates
Sat., Mar 21 at 7:30 PM
6701 Miami Lakeway South Miami Lakes, FL 33014